Professional Prestressed Concrete Blades
Over 45 years of experience in the development and production of professional diamond tools
Knowledge and skill in all types of hollow core saw machines worldwide
Solutions and optimization according to customer needs
100% quality assurance (QA)
Please click here to visit their website.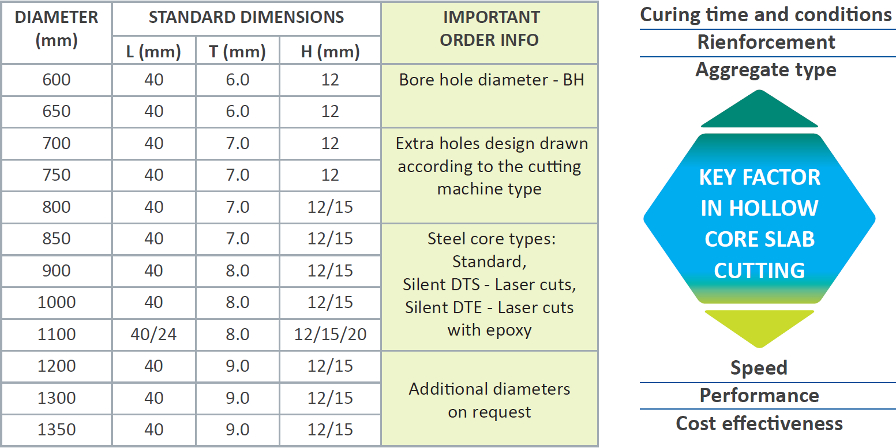 Bonding system:
Toolgal possesses various types of bonding systems according to the customer's working conditions and the concrete aggregates.
Innovation:
Toolgal GE LINE – The company has launched an innovative bonding system
The new technology permits higher output (speed, life performance) and is especially designed as an environment friendly product (no heavy metals).
Segment shapes and structure:

In order to maximize the tool efficiency, Toolgal combines the bonding system with the right shape and inner structure of the segment.
STEEL CORE TYPES:

There are four steel core types.

The main difference between them is the noise level when in use.

Normal Core: Full body steel - the most economical, most stable during cut - 102-105 dBA
DTS steel core: Same as normal core, but has special shaped laser cuts for noise reduction
Around 15-20% more expensive, moderate noise damping – 100-102 dBA
DTE steel core: Similar to DTS but the laser cuts are filled with special epoxy adhesive substance which would reduce noise dramatically. Significantly more expensive – 97-99 dBA
LN (Sandwich) steel core: This steel core is the most silent solution. The core consists of copper foil that is laid between two steel layers. This would be the optimal noise damping solution, but is the most expensive one (approximately 50% more) – 94-97 dBA
Noise levels are given for 1100mm saw blade on ELEMATIC saw during cross cut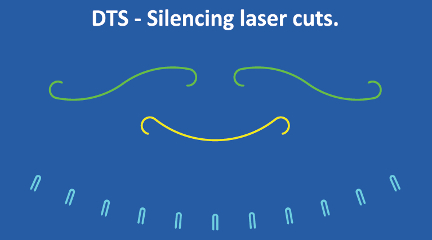 Standard bore holes:
Toolgal stock steel cores that fit most of the popular bore-hole sizes.
60mm + 2 extra holes
100mm
130mm + 6 extra holes
Other bore holes in request

Cutting speed and life performance:
Cutting speed is mainly affected by slab thickness, curing stage, type of aggregates and cable reinforcement content.
The optimal speed (limestone aggregates) 200mm slab is 1.8- 2 m/Min and can drop to 0.5-0.8 m/Min in 500mm slabs.
The blade life is mainly affected by aggregate type, curing stage and machine maintenance condition.